ecoLINK fiber services is a subsidiary of East Central Oklahoma Electric Cooperative (ECOEC). It is managed and operated with the same attitude and spirit of the Cooperative that our members know and trust.
ecoLINK fiber services will provide 100% fiber optic internet and premium phone service to homes and businesses.
Fiber technology provides for a self-healing electric system.
A self-healing electric system allows for reduced outage time and enhanced efficiency and safety. It provides automation capabilities that ultimately increase the reliability of electric service.
The lack of availability of reliable, affordable internet service has gone on too long.
Some may remember or have heard stories of when electric cooperatives first brought electricity to rural homes and farms. It made such a difference in the lives of those who had been overlooked or refused service. Now 80 years later, we're doing it again - bringing a much-needed service to the underserved.
Since we are working to build out a multi-city fiber network, we have crews working throughout our service territory to get us to your neighborhood as quickly as possible. We are open to sign ups in some areas now. You can check availability at your address.
The following is a brief summary of our terms and fees:
$100 installation fee*
No contract required for residential services
No equipment charges or monthly rental fees for standard equipment
*$100 installation fee subject to change after first round of installs are complete in your area. Sign up during the initial offering of ecoLINK fiber in your neighborhood to make sure you're able to snag this introductory installation price.
If you need a dedicated (static) IP address at home, we can do that! You will need to select the custom quote option when the time comes to sign up for an internet package. You'll be able to talk to our sales department to discuss your specific needs. We will help you through the process to ensure your internet package fits all your needs at a reasonable price.
Once you sign up for service, there will be an installation process. Check out the graphic below for more details on what to expect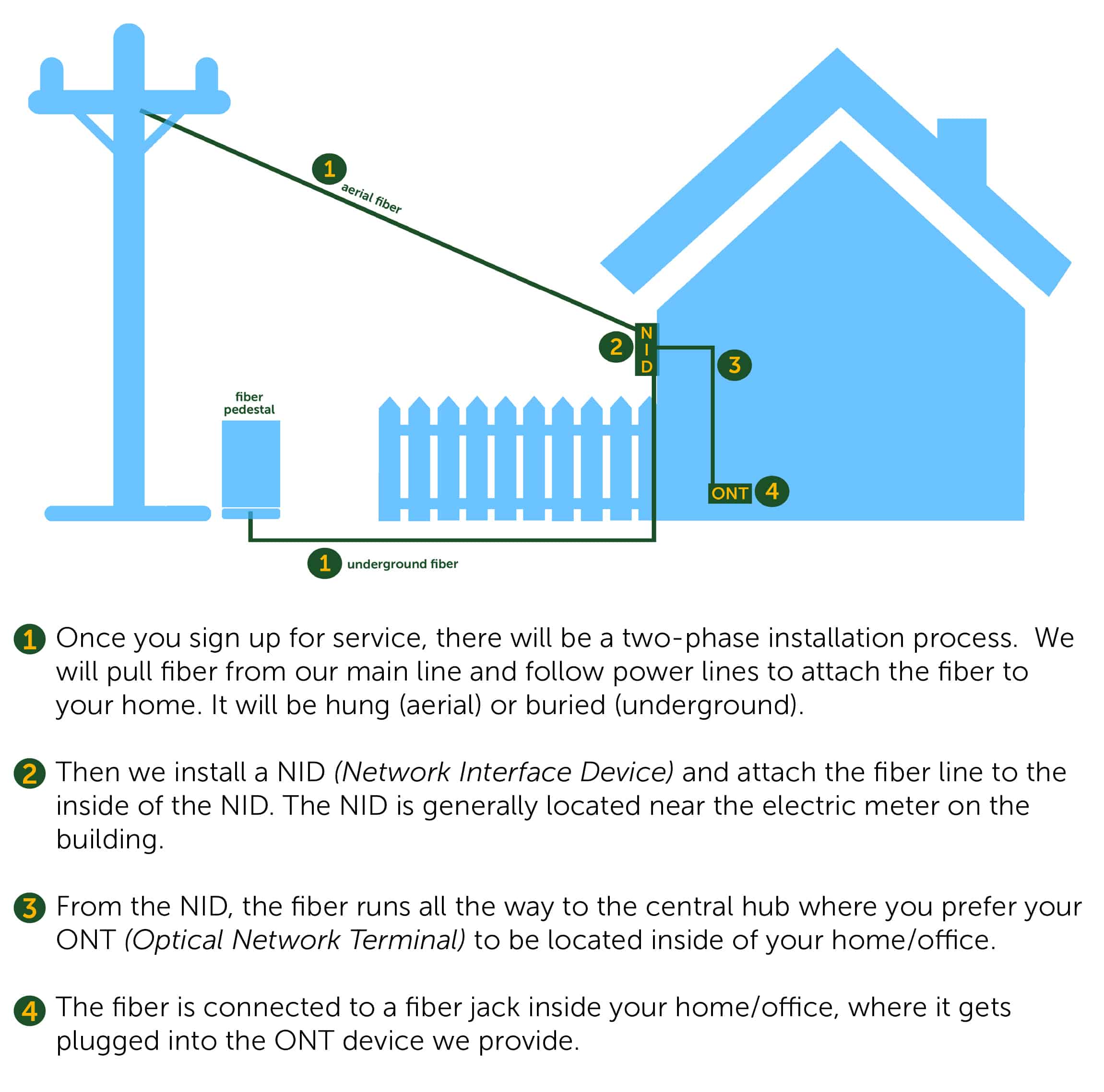 Absolutely. We are so confident that you'll love our services that we will not require an annual contract for residential internet services. You have the freedom to upgrade, downgrade, or cancel at any time. Simply call us at 918-756-0833 to make any changes to your account.
If you're looking for internet speeds faster than 1Gbps, you may be interested in our dedicated services. This option offers higher speeds with a dedicated fiber line running into your home. While all of our packages include fiber into your home, dedicated services can bring additional strands of fiber into your home to bring you higher speeds.
For more information about dedicated services, contact us at info@ecoLINK.coop.
In keeping with our simple and straightforward promise, you can call us anytime at (918) 365-1273. This is the only number you need to reach us directly for any questions you may have.
We are working as quickly as possible to get fiber available to every East Central Cooperative member. The plan is for a 6-year buildout, but we're going to finish it faster if possible! Be sure to register here for the latest updates and to express your interest.

Residential internet service starts at just $55 a month and residential phone only $35 a month. You can bundle them together and save even more! Our pricing is extremely competitive, and we exist to serve our subscribers and improve the quality of life in our communities.

We understand you have enough to worry about without having to be concerned about any data limits, so there are no data caps on ecoLINK internet. Absolutely, you can stream with our service, and if it makes your life better and more enjoyable, we encourage you to do so! Our 100 Mbps service is a great start, and better than what most providers can even dream of offering, but our 1 Gigabit service is even better for streaming video.

While some providers charge an extra $10 a month for Wi-Fi capability, ecoLINK will provide an ecoLINK owned and managed Wi-Fi router that has Wireless AC technology (the latest and greatest wireless standard) at no extra cost to you! Our router can cover most homes around 1,500-2,000 square feet with full wireless coverage, but we also have Wi-Fi extenders available for $5 more a month. If you want to use your own router you have purchased elsewhere, we won't stop you. Some of us here at ecoLINK are technology geeks too and have the spider-looking ones with tons of extra antennas in our houses as well.

ecoLINK will not offer Video (TV) service at this time. For us to offer video services, it would add millions of dollars to the cost of the project and cause us to have to enter negotiations with all of the various content providers for each and every channel. Right now, we are focusing on the two most important services to get our area of Oklahoma connected to the rest of the world in a cost effective and reliable method, Voice (Phone) and Data (Internet). As the project progresses, we will routinely look at potential opportunities to add a Video service. In the meantime, fiber Internet with ecoLINK will enable you to choose from a variety of Over-the-Top (OTT) options like Netflix, Hulu, Amazon Prime Video, HBO Go, Showtime Anytime, Cinemax Go (MAX Go), and many more! We strongly recommend our Gigabit Internet service if you want to stream video.
There is a $100 installation fee* for a standard installation for residential subscribers.
*$100 installation fee subject to change after first round of installs are complete in your area. Sign up during the initial offering of ecoLINK fiber in your neighborhood to make sure you're able to snag this introductory installation price.
Nope! You get your very own fiber optic cable all the way to your home, farm, or business. Fiber to the Home (FTTH) (sometimes referred to as FTTP or Fiber to the Premise) is what ecoLINK is installing and it is the best way to ensure reliable, fast internet service. Unlike wireless, cable, satellite, and DSL internet, fiber optic connections provide over 1,000 times as much bandwidth as copper and can travel more than 100 times further without losing signal strength. Fiber optic versus copper transmission can be viewed as the speed of photons versus the speed of electrons. Photons travel at the speed of light, whereas electrons used in copper travels at less than one percent of the speed of light. ecoLINK fiber technology is second to none. If you have previously had any other service other than FTTH, you'll see a noticeable difference!